Here is below all the detail Activities Prices and Booking Conditions :
BOOKING CONDITIONS :
1. PLEASE KINDLY BOOK DIRECTLY WITHOUT ANY THIRD PARTY as Private Driver, Tour Guide , Hotel , Villa ,Travel Agent ( NO COMMISSION , NO DRAMA ) and Please Email, WhatsApp, Viber, WeChat, CALL, SMS, to get the best Correct information at :
MOBILE : +6281337497178 (Call / Whatsapp)
EMAIL : [email protected]
2. PICK UP AND DROP SERVICE BY OUR CAR ONLY AND WE ARE NOT ACCEPTING THE BOOKING BY CLIENS DIRECT VISIT TO OUR PLACE by Taxi, Private driver or Travel Agent in Order to Respect our commitment and to Avoid the Third party that taking Advantage of Our Good Name.
FREE PICK UP AND DROP SERVICE TO THE HOTEL / VILLA at : Nusadua, Sawangan, Jimbaran , Kuta, Legian, Seminyak Only.
ADDITIONAL CHARGES USD 15 / CAR for return transper will Charges as the petrol fee for pick up / drop area at: Kerobokan, Canggu, Munggu, Ungasan, Uluwatu, Balangan, Dreamland, Pecatu, Sanur, Denpasar.
3. PAYMENT SYSTEM
We Prefer Cash on Venue by USD / AUD / SGD / IDR and All payment will convert by Money Converter Apps.
Noted : Payment by USD only acceptable which USD that has Year printed above 1996.
Credit Card payment only by VISA and MASTER and will charges 4% Tax on top of the total payment after Convert in to IDR.
---
1. ( A ) PARASAILING SINGLE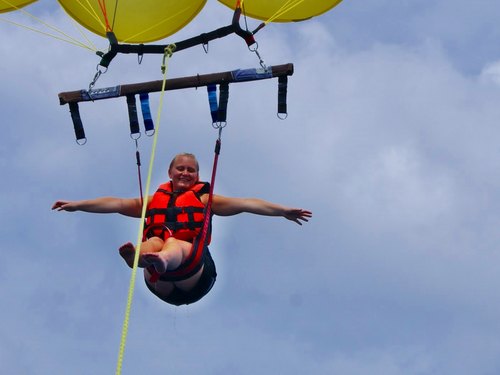 One by one and start from the beach and Landing on the beach,
Duration ± 2 – 3 Minutes and its Dipending on the wind conditions
RATES : USD 12 / person / 1 around
---
1( B ) PARASAILING TANDEM

( 2 – 3 person at The same time and Start and Landing from the boat which using Winches Tech , Duration 5 Minutes )
RATES : USD 25 / person / Minimum 2 Person Member
---
2. BANANA BOAT
is one of the spectacular water activities to explore the warm and blue seawater within 15 minutes on each trip. The professional boat captain will ensure you to enjoyable on your adventure with safety equipment and driving. The surprise movement on Banana Boat riding is one of the fantastic moments and gives you unforgettable memory.
Rate : USD 12/person 15 mnt Minimal 2 person

---
3. JET SKI
is one of the exciting Bali JetPacks sport activities by driving 700 cc motorize ski to explore the beautiful beach of Tanjung Benoa, south part of Bali. This sport is well equipped by life jacket and accompanied by the professional Jet Ski Guide to ensure your safety and security adventures.
Rate : USD 20 /person / 15 mnt
---
4.
SNORKELING
is the practice of swimming on or through a body of water while equipped with a diving mask, a shaped tube called a snorkel and usually swimfins. Using this equipment allows the snorkeler to observe underwater attractions for extended periods of time with relatively little effort.
Rate : USD 12 / person / 1 hours Minimal 2 person

---
5. SCUBA DIVING AT NUSA DUA
Get the fantastic and wonderful experience under the blue sea water with colorful coral and fishes from the smallest to the biggest one. The beautiful panorama under the deep blue sea and accompanied by the professional and experienced diving instructor will make your adventure is more enjoyable.
Rate : USD 40 / person / 1 x Dive
---
6. WATER SKI / WAKE BOARD
is an exciting marine sport activity gliding on the ski board to explore blue seawater at Tanjung Benoa Beach, south part of Bali This activity will bring you to the great experience by free run away on the seawater and pulled by the power boat. This adventure will force yours talent with great challenge to realize unforgettable memory.
Rate : USD 25 / person /15 mnt
---
7 DONUT BOAT
is a water sports, where you will sit in a rubber boat in the form of a donut that is pulled by a speed boat. This sports is similar to the banana boat but just the shape is like a donut, donuts boat can be played by 2 to 4 persons in accordance with the request.
Rate : USD 12 / person / 15 mnt Minimal 2 person

---
8. FLY FISH
There are several options of passenger position when trying flying fish. Such as sitting on horseback or riding a motorbike and sleeping supine. Passengers will be holding on to a rope across the middle of the boat. Then a speedboat will pull the boat. With a high-speed downwind and you will be taken from the beach toward the ocean.
Rate : USD 20 / person / 3 x fly Minimal 2 person

---
9. SEA WALKER BALI
Adventure tour to the ocean floor has been present in Bali. Marine tourism is very suitable for you who like adventure under the sea and enjoy the life of the fish and beautiful underwater plants. With Bali sea Walker , you do not need to know how to swim or also have a diving certificate and allows everyone to enjoy marine life. Seawalker is a soft dive system, which means you only use our unique Bali Sea walker helmet design without the need for a dive tank. Explore the stunning underwater life of Bali where you can walk at the bottom of the sea and come face to face with Marine life invorement whilst breathing the same as you do on the surface and Totally feel like at the different world.
Rate : USD 45 / person / 1 x dive

---
10. FAMILY GLASS BOTTOM BOAT
See some fish , Feeding fish and Houbour Tour with family can be done with this boat.
The boat it self has 2 Glasses in the bottom which allow us to Enjoy seeing the Marine life and feeding the fish at the same time. Benoa Hour bour Also very nice are which located around the Laguna of Tanjung Benoa village and its Worth to see with Family.
Price : USD 25 / Person ( Minimum 2 Person ) 1 hours

---